Andrea Grosso Ciponte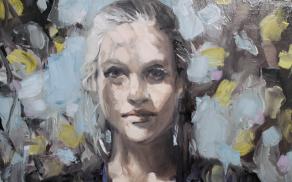 Available Works
























Biography
Andrea Grosso Ciponte (*April 9, 1977, Praia a Mare, CS, Italy) works in Belvedere M.mo, Italy, as an artist and filmmaker, professor of art at various High Schools and as professor of computer graphics at the Academy of Fine Arts, Catanzaro, Italy, where in 2000 he graduated in painting.
In his paintings Grosso Ciponte works since 2000 on paintings produced in a single session "alla prima" originated from images that passed through the filter of different mediums, such as photography, video and computer. A couple of years ago he also started creating "life" paintings. 2011 Grosso Ciponte showed his work at the 54th International Art Exhibition Venice Biennale.
In the areas of video and computer art there are numerous collaborations with artists and musicians.
SOLO EXHIBITIONS
2013 Frankfurt, Gallery Art Virus: "Portraits"
2000 Roma, Nabel Art Cafe': "La pittura Addosso"
2002 Milano, T-Art: "D'Istante" a cura di Patrizio Peterlini
2002 Ferrara, Galleria Lacerba: "D'istante"
2002 Verona, Bazaart – Kookai: "la grande vetrina"
2003 Brescia, Galleria StileArte; "Andrea Grosso Ciponte" – Articolo rivista StileArte N.71 Sett.2003
2005 Lugano, ARTantide Lugano; "Mediterranean Generation
2012 Calvenzano (BG), Atelier: "Nonluogo a procedere" a cura di Massimiliano Cincinelli
GROUP EXHIBITIONS
1997 Squillace: La scuola di Catanzaro in Mostra a cura dell'Accademia di Belle Arti di Catanzaro
1998 Alatri: XXVI Biennale d'arte Contemporanea di Alatri
2000 Catanzaro, Sala Cefaly: "Forme"
2000 Roma, Nabel Art Cafe': "Pinocchio"
2000 Roma, Classico Village: "Entropia"
2000 Roma, Centro di Documentazione artistica "Luigi Di Sarro": "Calabrian New Wave"
2001 Lamezia Terme, Aeroporto: "Il Volo"mostra di fumetti e illustrazioni
2001 Cosenza, Galleria Unicorno: "Sguardo Astratto"
2001 Maierà, Palazzo Patrizio: " Good Morning Maierà "
2002 Montichiari – Brescia, EXPO ARTE
2002 Revere – Mantova, Young Museum, "Il corpo e lo sguardo"
2003 Mozzecane – Villa Vecelli Cavriani, "Ritorno alla figurazione"
2004 Napoli – Real Museo Mineralogico, Assessorato all'Ambiente e Politiche Giovanili del Comune di Napoli, "nerodiscena6"
2004 Bologna – Galleria 9 colonne – SPE – Il Giorno, "I volti, gli sguardi"
2004 Milano – Superstudio Più, "Premio Italian Factory"
2005 Napoli – sale del Complesso S. Maria La Nova, Assessorato all'Ambiente e Politiche Giovanili del Comune di Napoli, "Nerodiscena"
2007 Cassano allo Ionio (CS) – Centro storico, "Tam Tam Cassano"
2008 Catanzaro – Kairos Arte Contemporanea, "AntePrima"
2008 Rossano Calabro (CS) – Palazzo San Bernardino, Museo Amarelli, "Sguardi Multipli. Rassegna nazionale di arti visive"
2008 Cassano allo Ionio (CS) – Centro storico, "Tam Tam Cassano"
2009 Sassuolo (MO) – Nuovo Ospedale Civile , "ART4Children"
2009 Ecolandia (RC) – FaceFestival
2010 Catanzaro – Palazzo della Provincia, "Zone Scoperte 2, arte giovane contemporanea"
2010 Vibo Valentia – PALAZZO COMUNALE ENRICO GAGLIARDI, "Premio Internazionale Lìmen Arte "
2011 Biennale di Venezia – L'Arte non e' cosa nostra – le Accademie – Tese di San Cristoforo, Venezia
2012 Belvedere Marittimo (CS), Castel Ruggiero -"INSIDE. INTERIORITA' DELL'OPERA" a cura di Anita Natalini
website
www.andreagrossociponte.com